Are you trying to perfect your skincare routine? Wondering which products to use at night and which to use during the day? In this article, we'll give you the rundown of which kinds of serums are best to add to your nighttime routine in order to achieve the skincare goals you are aiming for.
What are serums?
A skin serum is a liquid or gel-like product containing concentrated active ingredients that are formulated to penetrate active ingredients into the skin. They are usually lightweight and are water or oil-based. Serums are designed to address a large array of skin concerns, such as acne, aging, hyperpigmentation, rosacea, and more.
Why Serums Should I Be Using?
Choosing which serums to incorporate into your routine depends on a few factors like your skin type, age, if you have acne-prone skin and other concerns.
Anti-aging: these are formulated to prevent/reduce the appearance of wrinkles. Niacinimide or retinol serums are great for those with aging skin.
Hydrating: there are many serums designed for adding some moisture to dry skin barriers. Most often these serums contain hyaluronic acid, which acts as a humectant to draw water into the skin from the environment.
Exfoliating: Exfoliating serums contain chemical exfoliants such as BHA's and AHA's to remove dead skin cells from the skin's surface. These exfoliating serums will add vibrance to your skin and reduce breakouts.
Brightening: These types of serums are designed to treat dull or tired-looking skin. Brightening serums often contain ingredients like hydroquinone, ferulic acid, and vitamin C.
What Serum Should I Use At Night? Best Type of Serum to Add to Your Evening Skincare Routine
Any serums that are formulated to "repair" the skin in any way are great to apply at night because that is when you're skin is doing the most healing work.
Retinols, BHA's, and AHA's are great ingredients to look for when adding a serum to your nighttime routine. That's because your skin has a much-increased sensitivity to the sun when applied, so putting them on at nighttime will help reduce irritation.
Hyaluronic acid serums are also great to apply at night to add extra moisture. Go with a hyaluronic acid if you are simply looking for hydration, no exfoliation.
Consider adding a serum containing niacinamide at nighttime to reduce inflammation, and irritation, and repair the skin barrier. Niacinimide is great for those who have inflammatory skin conditions such as acne, rosacea, or even if you would like to achieve a more poreless appearance to your skin.
Recommended Serums to Use At Night:
1. CeraVe Anti Aging Retinol Serum:
This may be a drugstore serum, but it is a perfectly formulated retinol product that also contains ceramics + niacinamide to protect the skin barrier. It is not as harsh on the skin as many retinol products can be, so it works great for any skin type. This is a great product to add to your nighttime skincare routine if you are looking to reduce fine lines and wrinkles while maintaining hydrated and smooth skin.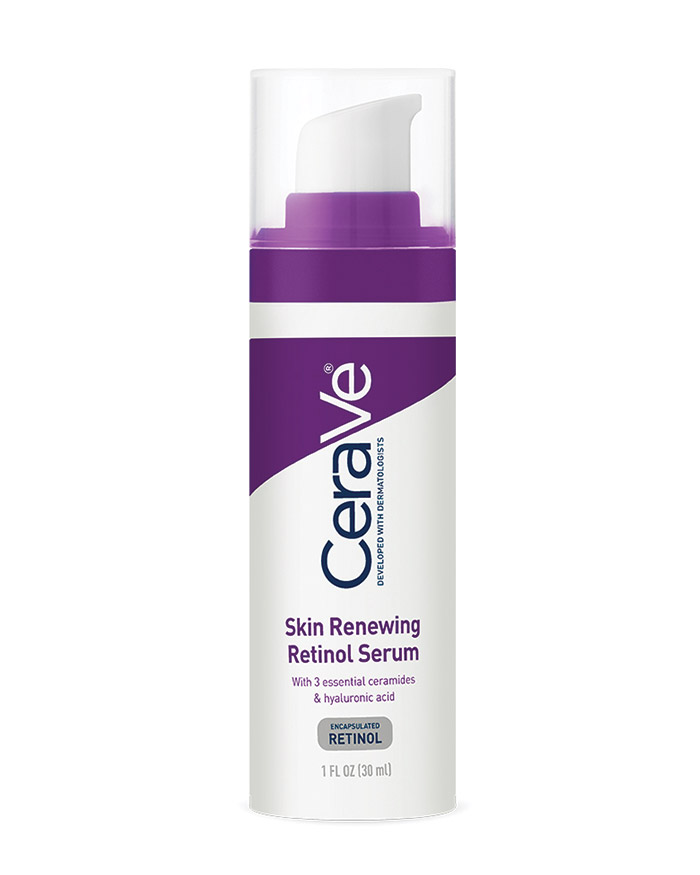 Pros: This product is fragrance free, non-greasy, and gives a smooth appearance to the skin.
Cons: Some reported that it is irritating on sensitive skin and also felt heavy.
Find out about the valuable benefits of retinol serum here.
2. Kiehls Midnight Recovery Concentrate Serum
Is your skin looking dull and tired? Then this Kiehls Midnight Recovery Concentrate could be your new magic product. It is packed full of hydrating oils like lavender, evening primrose, and squalane. This serum is designed to rehydrate and repair your skin overnight. 
Pros: Lightweight and great for uneven skin, as well as fine lines/wrinkles.
Cons: This product does contain essential oils, so you may or may not like the smell of the product. Sometimes essential oils can be irritating for sensitive skin.
3. Estée Lauder Advanced Night Repair 
 This nighttime skincare serum with hyaluronic acid and peptides will help improve the look of fine lines, wrinkles and dark spots over time—revealing a smoother, more radiant complexion in the morning.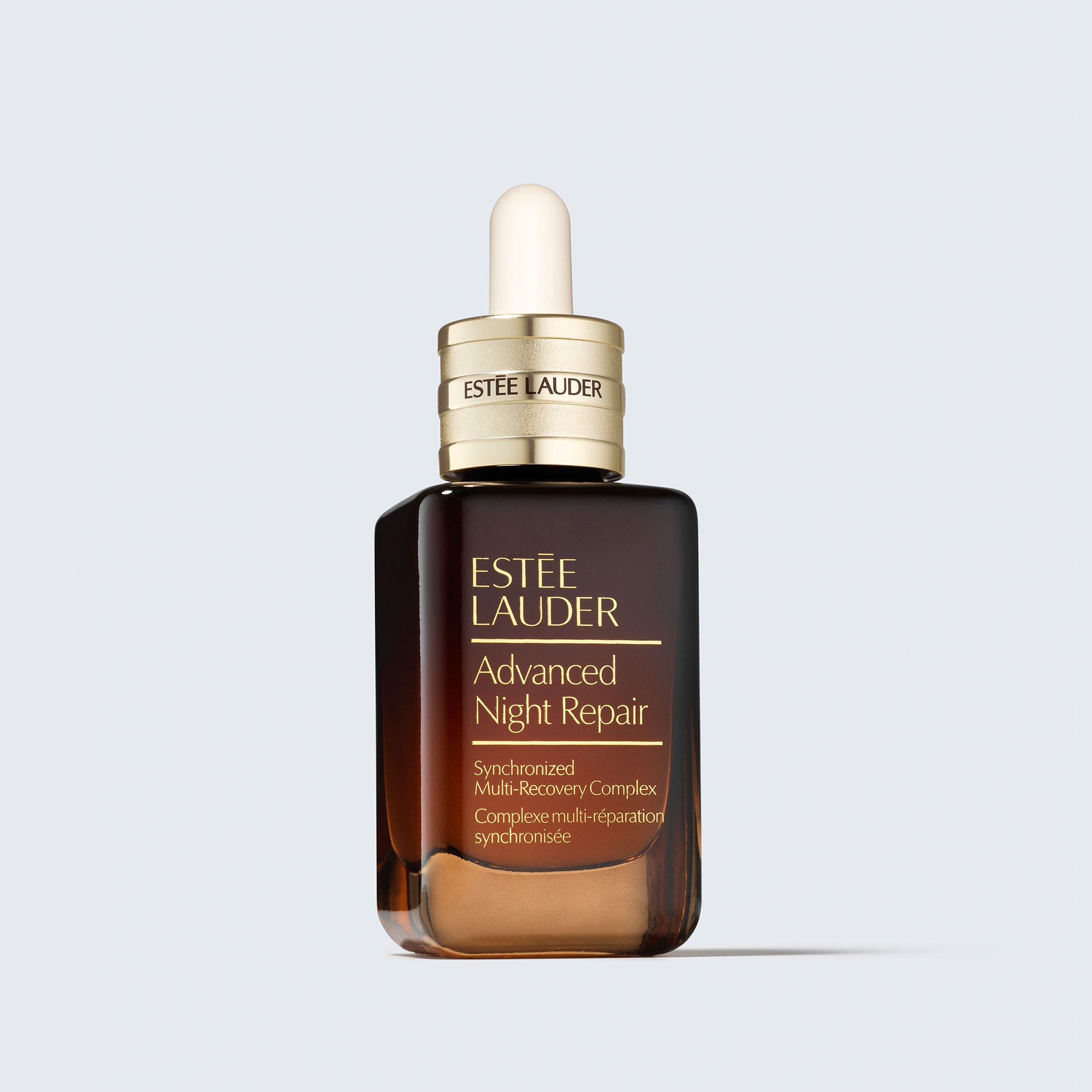 Pros: Great for dry skin because it provides great hydration while reducing the appearance of wrinkles.
Cons: It is a little on the pricier side, and some reviews stated they did not like the smell that the product had.
4. La Roche Posay Hyalu B5 serum
 La Roche-Posay Hyalu B5 Hyaluronic Acid Serum for Sensitive Skin is a face serum that contains a high concentration of ingredients proven to keep skin moisturized and protected. The formula also contains madecassoside, which has been shown to be effective in protecting and repairing the skin barrier. It is enhanced with hyaluronic acid and vitamin B5, which helps enhance cell rejuvenation and gives skin a firmer look while retaining moisture without an oily feel.
Pros: Gentle on the skin and very hydrating.
Cons: The texture of this serum can feel slightly tacky on the skin.
5. Pixi Overnight Glow Serum
Let your skin work while you sleep to reveal a brighter complexion. This miracle serum contains 10% Glycolic Acid & Arginine, which help to reduce fine lines and sun spots. It's enriched with Cucumber & Aloe Vera extracts for added hydration and calming benefits.
Pros: Effective for the affordable price of this serum, and gives the skin a hydrated and calm appearance.
Cons: Some users said that the formula feels thick and sticky, which is not an ideal texture for a serum.
6. Aveeno Calm and Restore Triple Oat Hydrating Face Serum
Soothe your skin and fortify its moisture barrier overnight with this hydrating serum. This calming face serum is formulated with a nourishing triple oat complex, calming feverfew, and conditioning oat extract to help restore irritated, dry skin.
Pros: This serum leaves your skin feeling hydrating but leaves a matt finish, which is great for those who don't like an oily or greasy feeling when applying skincare.
Cons: The biggest con from reviewers was that the packaging was not effective and the dropper is not the easiest to use.
7. Drunk Elephant TLC Framboos Glycolic Night Serum
If you're fighting off breakouts, clogged pores, oily skin and fine lines, TLC Framboos is a fantastic option. This powerful serum combines glycolic, tartaric, lactic, citric and salicylic acids to gently dissolve the "glue" that keeps dead skin cells clinging to your face. Other ingredients like raspberry extract and horse chestnut extract to hydrate and clarify your complexion. Kiss dullness goodbye with a single use — this hero product brightens without abrasion or harming the skin's protective barrier.
Pros: This serum is very effective at brightening and evening the skintone.
Cons: The main downside to this serum is the price.
8. Peach and Lily Glass Skin Refining Serum
Get that glass skin you've always wanted with this revolutionary serum. A cocktail of peach extract, niacinamide, East Asian mountain yam, madecassoside, peptides, and hyaluronic acid work together to hydrate, calm and brighten your skin – giving a youthful radiance. 
Pros: Soothing. smoothing, and moisturizing,
Cons: Some reviewers said that it irritated their skin or made their acne-prone skin break out.
9. The Ordinary Niacinimde 10% + Zinc 1% Serum
This serum contains a 10% concentration of Niacinamide, known to reduce the look of blemishes and congestion. In addition, it contains Zinc PCA, which has been shown to increase skin radiance and significantly reinforce skin barrier function to improve skin smoothness and radiance over time. This formula can be used alongside acne treatments if desired for added visible skin benefits.
Pros: Helps achieve a more poreless texture on the skin and at a great affordable price!
Cons: Can feel sticky when applied.
Read here for more Acne Serum Recommendations: Best Serum for Hormonal Acne in 2022
10. Eminence Clear Skin Willowbark Booster Serum
Worried about acne and uneven skin tone? This concentrated serum and product enhancer infused with willow bark, horsetail, walnut leaf, and tea tree oil will calm irritation and reduce the appearance of problem skin. A BioComplex of antioxidants, Coenzyme Q10 and Alpha Lipoic Acid helps improve the appearance of wrinkles and protect against future damage. 
Pros: Soothing and hydrating on the skin + clean ingredients!
Cons: This serum does have a scent to it, which some enjoy but some do not like the smell. May not be hydrating enough for very dry skin.
11. Sunday Riley Good Genes All in One Lactic Acid Treatment Serum
Want the glow of your 20s back? Good Genes is a Lactic Acid Treatment that exfoliates the dull surface of the skin for instant clarity, smoothness and glow. As dull, dead surface cells are removed, clarity and smoothness are restored. It visibly brightens the appearance of dark spots and discolorations and instantly plumps the look of fine lines and wrinkles in 3 minutes.
Pros: Reduces the look of fine lines and wrinkles, not too greasy/oily.
Cons: Pricey for the amount of product you receive. 
12. Lavish Cosmetics Papaya Face Nectar Rejuvenating Serum
The Papaya Face Nectar Rejuvenating Serum is an all-in-one treatment that addresses signs of ageing and restores the natural vibrancy of your skin. This lightweight fluid contains a combination of fruit stem cells, sodium hyaluronate and papaya enzyme to deeply moisturize the skin. Vitamin B3 (niacinamide), vitamin C, Carrageenan and Goji Extract work together to help even out your skin tone and lighten brown spots, pigmentation and sun damage.
Pros: Lightens dark spots and hyperpigmentation.
Cons: Fragranced and has some new/unique ingredients in the formula.
13. Dermalogica Age Smart Overnight Repair Serum
Dullness and lacklustre skin are what the Dermalogica AGE Smart serum is designed to help combat. Imbued with rose and argan oils, this powerful peptide serum manages the appearance of fine lines, nourishes the skin, and reduces signs of ageing. For maximum effects, use this daily in conjunction with other products from the Age Smart range for excellent results.
Pros: Users reported they liked the smell and is moisturizing while reducing the look of aging skin.
Cons: Expensive and can feel slightly greasy.
14. La Mer The Revitalizing Hydrating Serum
 With its revolutionary nutrient complex, The Revitalizing Hydrating Serum is a lightweight, deeply replenishing moisturizer that transforms skin with sea-sourced energy for your most radiant, healthy-looking complexion yet. Powered with Miracle Broth™, Deep Hydration Ferment™ and Youth Activating Ferment™, this high-speed serum creates a micro-cloud of moisture to maintain a haven of hydration where skin can thrive.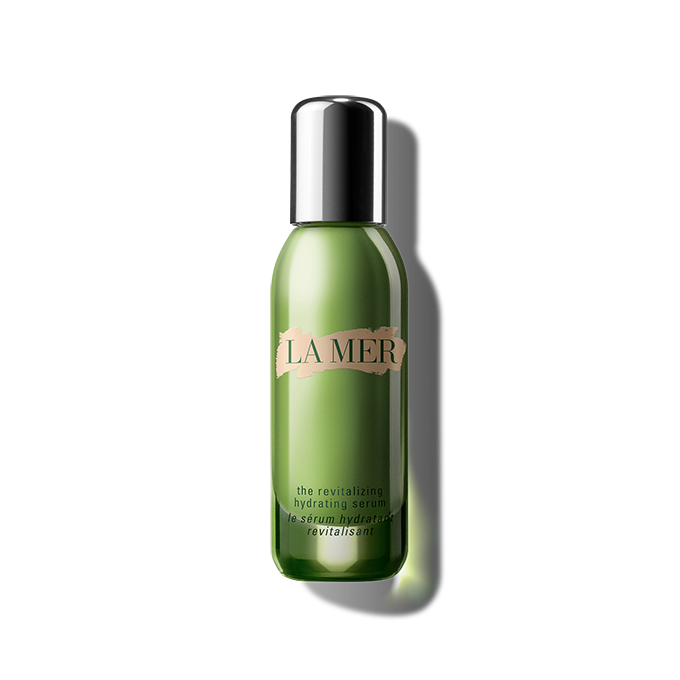 Pros: Lightweight while being hydrating. Refreshes and plumps the skin.
Cons: Very high price point.
15. Votary Intense Night Oil
Votary Intense Night Oil is a revolutionary night oil that combines rosehip and retinoid to smooth texture, even-out tone and give you younger, plumper-looking skin. As skin ages, we experience dehydration, a loss of elasticity and an increase in fine lines, wrinkles and pigmentation. This luxurious natural formula combines nature's most powerful ingredients to help you look younger while you sleep.
Pros: Nourishing oil and gentle retinol.
Cons: Oil based serum, may not suit those with very oily and acne prone skin.
16. RoC Multi Corexxion Hyaluronic Acid Night Serum Capsules
Experience RoC's new clinically proven Dual Action Hydrate + Plump Serum Capsules. These capsules contain a perfectly measured dose of Hyaluronic Acid, proven to draw moisture from within skin up to the surface for maximum plumping power. The secret to the soft, supple skin you've been dreaming of is right at your fingertips. In just 1 night 100% of women had visibly plumper, smoother & more radiant skin.
Pros: Convenient packaging great for travel. Gives skin a glowing radiance.
Cons: May not provide long term benefits.
17. Naturium Retinol Complex Serum
This advanced retinol serum helps to improve the look of fine lines, wrinkles, topical elasticity, and uneven tone while also promoting overall visual radiance for the face. The exclusive blend of encapsulated retinol, a natural bio-retinol and bakuchiol, a plant-derived retinol alternative, works over time to help even skin tone and improve the appearance of fine lines and wrinkles.
Pros: Smooth + not sticky texture. Firming and brightening.
Cons: Some reviewers reported skin irritation.
Check out these skin serum recommendations and tips!
Best Facial Serums For Gua Sha
9 Crucial Facial Serum Benefits and Must-Have Ingredients